Flowering Hedge / Blooming Hedge
Aims: The plants making up the flowering hedge must not exceed 3m in height at maturity and must be suitable for the soil and the climate where the hedge is planted. The aim is to be harmonious. The easiest way of achieving this is to draw up a plan on paper of the flowering hedge before starting: the flowers as well as the colors should be spread out both in terms of space and the time of year, the deciduous and evergreen plants should also be alternated.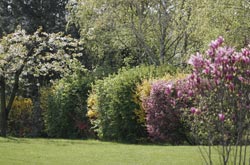 Adult height: The flowering hedge is usually between 1.50m and3m in height.
Period of interest: All year.
Planting distances: Approximately every 1.50m. It can be planted in staggered rows for a fuller effect. However for a Screening Hedgege made up of a single species we would advise every 80cm, although in the case of a mixed flowering hedge we would try and allow enough space so that each plant would not infringe on its neighbour and would show itself off to its best effect.
Pruning: It is best not to prune a flowering hedge as this tends to harm the beauty of the flowers.

Examples of flowering hedges:
Flowering Hedge 'Emma'
Flowering Hedge 'Julie'

| Plants | Flowering Period | Foliage | | | | |
| --- | --- | --- | --- | --- | --- | --- |
| Abelia grandiflora | J.F.M.A.M.J.J.A.S.O.N.D | J.F.M.A.M.J.J.A.S.O.N.D | | | -20°C | |
| Amelanchier | J.F.M.A.M.J.J.A.S.O.N.D | J.F.M.A.M.J.J.A.S.O.N.D | | | -18°C | |
| Barberry, Darwin's | J.F.M.A.M.J.J.A.S.O.N.D | J.F.M.A.M.J.J.A.S.O.N.D | | | -15°C | |
| Beauty berry, Mauve | J.F.M.A.M.J.J.A.S.O.N.D | J.F.M.A.M.J.J.A.S.O.N.D | | | -20°C | |
| Beauty berry, White | J.F.M.A.M.J.J.A.S.O.N.D | J.F.M.A.M.J.J.A.S.O.N.D | | | -20°C | |
| Beauty Bush 'Pink Cloud' | J.F.M.A.M.J.J.A.S.O.N.D | J.F.M.A.M.J.J.A.S.O.N.D | | | -15°C | |
| Brigela® Weigelia | J.F.M.A.M.J.J.A.S.O.N.D | J.F.M.A.M.J.J.A.S.O.N.D | | | -18°C | |
| Bristol Ruby Weigelia | J.F.M.A.M.J.J.A.S.O.N.D | J.F.M.A.M.J.J.A.S.O.N.D | | | -18°C | |
| Buddleia 'Adonis blue Adokeep' | J.F.M.A.M.J.J.A.S.O.N.D | J.F.M.A.M.J.J.A.S.O.N.D | | | -20°C | |
| Buddleia 'Mauve' | J.F.M.A.M.J.J.A.S.O.N.D | J.F.M.A.M.J.J.A.S.O.N.D | | | -20°C | |
| Buddleia 'Nanho purple' | J.F.M.A.M.J.J.A.S.O.N.D | J.F.M.A.M.J.J.A.S.O.N.D | | | -20°C | |
| Buddleia 'Pink delight' | J.F.M.A.M.J.J.A.S.O.N.D | J.F.M.A.M.J.J.A.S.O.N.D | | | -20°C | |
| Buddleia 'Royal Red' | J.F.M.A.M.J.J.A.S.O.N.D | J.F.M.A.M.J.J.A.S.O.N.D | | | -20°C | |
| Buddleia 'White profusion' | J.F.M.A.M.J.J.A.S.O.N.D | J.F.M.A.M.J.J.A.S.O.N.D | | | -20°C | |
| Buddleia Yellow 'Sungold' | J.F.M.A.M.J.J.A.S.O.N.D | J.F.M.A.M.J.J.A.S.O.N.D | | | -20°C | |
| Dwarf Buddleia 'Dreaming Lavender' | J.F.M.A.M.J.J.A.S.O.N.D | J.F.M.A.M.J.J.A.S.O.N.D | | | -20°C | |
| Burkwood Osmanthus | J.F.M.A.M.J.J.A.S.O.N.D | J.F.M.A.M.J.J.A.S.O.N.D | | | -15°C | |
| Button Bush | J.F.M.A.M.J.J.A.S.O.N.D | J.F.M.A.M.J.J.A.S.O.N.D | | | -20°C | |
| Carolina allspic | J.F.M.A.M.J.J.A.S.O.N.D | J.F.M.A.M.J.J.A.S.O.N.D | | | -23°C | |
| Cherry tree, Nanking | J.F.M.A.M.J.J.A.S.O.N.D | J.F.M.A.M.J.J.A.S.O.N.D | | | -15°C | |
| Common Pearlbush | J.F.M.A.M.J.J.A.S.O.N.D | J.F.M.A.M.J.J.A.S.O.N.D | | | -15°C | |
| Common Snowberry | J.F.M.A.M.J.J.A.S.O.N.D | J.F.M.A.M.J.J.A.S.O.N.D | | | -20°C | |
| Daphne eternal fragrance | J.F.M.A.M.J.J.A.S.O.N.D | J.F.M.A.M.J.J.A.S.O.N.D | | | -15°C | |
| David Viburnum | J.F.M.A.M.J.J.A.S.O.N.D | J.F.M.A.M.J.J.A.S.O.N.D | | | -15°C | |
| Deutzia, Pink | J.F.M.A.M.J.J.A.S.O.N.D | J.F.M.A.M.J.J.A.S.O.N.D | | | -15°C | |
| Elderberry 'Black Lace' | J.F.M.A.M.J.J.A.S.O.N.D | J.F.M.A.M.J.J.A.S.O.N.D | | | -20°C | |
| Escallonia 'Iveyi' | J.F.M.A.M.J.J.A.S.O.N.D | J.F.M.A.M.J.J.A.S.O.N.D | | | -10°C | |
| Escallonia organiensis 'Aureovariegata' | J.F.M.A.M.J.J.A.S.O.N.D | J.F.M.A.M.J.J.A.S.O.N.D | | | -5°C | |
| False Spiraea | J.F.M.A.M.J.J.A.S.O.N.D | J.F.M.A.M.J.J.A.S.O.N.D | | | -20°C | |
| Farrer Viburnum | J.F.M.A.M.J.J.A.S.O.N.D | J.F.M.A.M.J.J.A.S.O.N.D | | | -15°C | |
| Flowering currant | J.F.M.A.M.J.J.A.S.O.N.D | J.F.M.A.M.J.J.A.S.O.N.D | | | -25°C | |
| Forsythia, Border | J.F.M.A.M.J.J.A.S.O.N.D | J.F.M.A.M.J.J.A.S.O.N.D | | | -29°C | |
| Forsythia, Pink Korean | J.F.M.A.M.J.J.A.S.O.N.D | J.F.M.A.M.J.J.A.S.O.N.D | | | -20°C | |
| Forsythia, White Korean | J.F.M.A.M.J.J.A.S.O.N.D | J.F.M.A.M.J.J.A.S.O.N.D | | | -20°C | |
| Franchetii Cotoneaster | J.F.M.A.M.J.J.A.S.O.N.D | J.F.M.A.M.J.J.A.S.O.N.D | | | -29°C | |
| Hibiscus | J.F.M.A.M.J.J.A.S.O.N.D | J.F.M.A.M.J.J.A.S.O.N.D | | | -23°C | |
| Honeysuckle, Lilac-flowered | J.F.M.A.M.J.J.A.S.O.N.D | J.F.M.A.M.J.J.A.S.O.N.D | | | -20°C | |
| Indian Hawthorn | J.F.M.A.M.J.J.A.S.O.N.D | J.F.M.A.M.J.J.A.S.O.N.D | | | -10°C | |
| Itea | J.F.M.A.M.J.J.A.S.O.N.D | J.F.M.A.M.J.J.A.S.O.N.D | | | -15°C | |
| Japanese Flowering Quince, orange | J.F.M.A.M.J.J.A.S.O.N.D | J.F.M.A.M.J.J.A.S.O.N.D | | | -29°C | |
| Japanese Flowering Quince, red | J.F.M.A.M.J.J.A.S.O.N.D | J.F.M.A.M.J.J.A.S.O.N.D | | | -29°C | |
| Japanese Flowering Quince, white | J.F.M.A.M.J.J.A.S.O.N.D | J.F.M.A.M.J.J.A.S.O.N.D | | | -29°C | |
| Japanese Pieris | J.F.M.A.M.J.J.A.S.O.N.D | J.F.M.A.M.J.J.A.S.O.N.D | | | -20°C | |
| Japanese Snowball bush | J.F.M.A.M.J.J.A.S.O.N.D | J.F.M.A.M.J.J.A.S.O.N.D | | | -30°C | |
| Korean Spice Viburnum 'Aurora' | J.F.M.A.M.J.J.A.S.O.N.D | J.F.M.A.M.J.J.A.S.O.N.D | | | -17°C | |
| Laurustinus | J.F.M.A.M.J.J.A.S.O.N.D | J.F.M.A.M.J.J.A.S.O.N.D | | | -15°C | |
| Laurustinus, Purple | J.F.M.A.M.J.J.A.S.O.N.D | J.F.M.A.M.J.J.A.S.O.N.D | | | -15°C | |
| Lilac, California | J.F.M.A.M.J.J.A.S.O.N.D | J.F.M.A.M.J.J.A.S.O.N.D | | | -12°C | |
| Lilac, Californian Pink | J.F.M.A.M.J.J.A.S.O.N.D | J.F.M.A.M.J.J.A.S.O.N.D | | | -15°C | |
| Long leaf waxflower | J.F.M.A.M.J.J.A.S.O.N.D | J.F.M.A.M.J.J.A.S.O.N.D | | | -10°C | |
| Loropetalum | J.F.M.A.M.J.J.A.S.O.N.D | J.F.M.A.M.J.J.A.S.O.N.D | | | -7°C | |
| Mahonia bealei | J.F.M.A.M.J.J.A.S.O.N.D | J.F.M.A.M.J.J.A.S.O.N.D | | | -15°C | |
| Mexican Orange | J.F.M.A.M.J.J.A.S.O.N.D | J.F.M.A.M.J.J.A.S.O.N.D | | | -15°C | |
| Mexican Orange 'Aztec Pearl' | J.F.M.A.M.J.J.A.S.O.N.D | J.F.M.A.M.J.J.A.S.O.N.D | | | -15°C | |
| Mexican Orange, Sundance | J.F.M.A.M.J.J.A.S.O.N.D | J.F.M.A.M.J.J.A.S.O.N.D | | | -15°C | |
| Milkflower Cotoneaster | J.F.M.A.M.J.J.A.S.O.N.D | J.F.M.A.M.J.J.A.S.O.N.D | | | -15°C | |
| Neillia affinis | J.F.M.A.M.J.J.A.S.O.N.D | J.F.M.A.M.J.J.A.S.O.N.D | | | -20°C | |
| Ninebark 'Lady in Red' | J.F.M.A.M.J.J.A.S.O.N.D | J.F.M.A.M.J.J.A.S.O.N.D | | | -20°C | |
| Oregon Grape | J.F.M.A.M.J.J.A.S.O.N.D | J.F.M.A.M.J.J.A.S.O.N.D | | | -15°C | |
| Otter bush, Otterbossie 'White Candy' | J.F.M.A.M.J.J.A.S.O.N.D | J.F.M.A.M.J.J.A.S.O.N.D | | | -8°C | |
| 'Otto Luyken' Laurel | J.F.M.A.M.J.J.A.S.O.N.D | J.F.M.A.M.J.J.A.S.O.N.D | | | -20°C | |
| Pheasant Berry | J.F.M.A.M.J.J.A.S.O.N.D | J.F.M.A.M.J.J.A.S.O.N.D | | | -15°C | |
| Photinia fraseri 'Carré Rouge' | J.F.M.A.M.J.J.A.S.O.N.D | J.F.M.A.M.J.J.A.S.O.N.D | | | -15°C | |
| Photinia fraseri 'Red Robin' | J.F.M.A.M.J.J.A.S.O.N.D | J.F.M.A.M.J.J.A.S.O.N.D | | | -15°C | |
| Pomegranate 'Mme Legrelle' | J.F.M.A.M.J.J.A.S.O.N.D | J.F.M.A.M.J.J.A.S.O.N.D | | | -15°C | |
| Purple Smoke Bush | J.F.M.A.M.J.J.A.S.O.N.D | J.F.M.A.M.J.J.A.S.O.N.D | | | -20°C | |
| Red Barked Dogwood | J.F.M.A.M.J.J.A.S.O.N.D | J.F.M.A.M.J.J.A.S.O.N.D | | | -34°C | |
| Rose Glorybower | J.F.M.A.M.J.J.A.S.O.N.D | J.F.M.A.M.J.J.A.S.O.N.D | | | -17°C | |
| Sacred Bamboo | J.F.M.A.M.J.J.A.S.O.N.D | J.F.M.A.M.J.J.A.S.O.N.D | | | -15°C | |
| Scotch Broom | J.F.M.A.M.J.J.A.S.O.N.D | J.F.M.A.M.J.J.A.S.O.N.D | | | -20°C | |
| Smoke bush | J.F.M.A.M.J.J.A.S.O.N.D | J.F.M.A.M.J.J.A.S.O.N.D | | | -20°C | |
| Snowball Tree | J.F.M.A.M.J.J.A.S.O.N.D | J.F.M.A.M.J.J.A.S.O.N.D | | | -30°C | |
| Spanish Broom | J.F.M.A.M.J.J.A.S.O.N.D | J.F.M.A.M.J.J.A.S.O.N.D | | | -18°C | |
| Sweet Mock Orange | J.F.M.A.M.J.J.A.S.O.N.D | J.F.M.A.M.J.J.A.S.O.N.D | | | -40°C | |
| Variegated Holly-Leaf Osmanthus | J.F.M.A.M.J.J.A.S.O.N.D | J.F.M.A.M.J.J.A.S.O.N.D | | | -20°C | |
| Variegated Pink Weigelia | J.F.M.A.M.J.J.A.S.O.N.D | J.F.M.A.M.J.J.A.S.O.N.D | | | -15°C | |
| Weigelia bicolor white pink | J.F.M.A.M.J.J.A.S.O.N.D | J.F.M.A.M.J.J.A.S.O.N.D | | | -20°C | |
| Virginal Mockorange | J.F.M.A.M.J.J.A.S.O.N.D | J.F.M.A.M.J.J.A.S.O.N.D | | | -40°C | |
| Winter-flowering Viburnum 'Dawn' | J.F.M.A.M.J.J.A.S.O.N.D | J.F.M.A.M.J.J.A.S.O.N.D | | | -20°C | |
KEY

: fragrant Flower

: Flower Color

: LFlowers available in different colors
J.F.M.A.M.J.J.A.S.O.N.D
: Month of the year, foliage present during the months in bold
(Ex. Here the flowering is from May to September.)

: Leaf color
J.F.M.A.M.J.J.A.S.O.N.D
: Month of the year, foliage present during the months in bold
(Ex. Here the foliage is present during the period March to September.)

: Presence of decorative berries and their color

: Plant does not tolerate alkaline soil
-20°C
: Adult plant hardy to -20°C