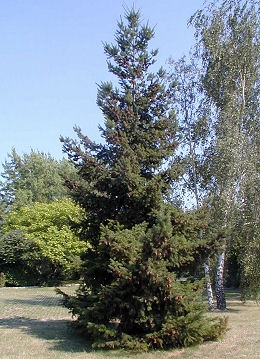 Area of origin: From Mexico to Alaska, from near sea level along the coast up to 3000 metres (3280 yds) altitude in the rocky mountains. Discovered in 1792, introduced in 1827.
Adult Dimensions: Height up to 50m (164') and width up to 15m (49,2') in Europe (to 150 years). In the United States very old trees can reach 100m (109yds) in height.
Foliage: Evergreen.
Soil Type: Avoid ground that is too extreme, too dry, too wet or too compact.
Hardiness: It is necessary to have sufficient humidity in the air. When young it dislikes late frosts in spring or early frosts in autumn. Hardy to -16°°C.
Exposure: Full sun.
Characteristics and Uses: The soft and clear green foliage, the rapid growth and the straight trunk makes this a beautiful tree for a park or garden where it should be planted alone. The forests of the Limousin, Bourgogne and the Auvergne display many examples of this species. Excellent wood for carpentry and many other uses as it is very strong and tough.