Bamboo Phyllostachys aurea 'Flavescens-Inversa'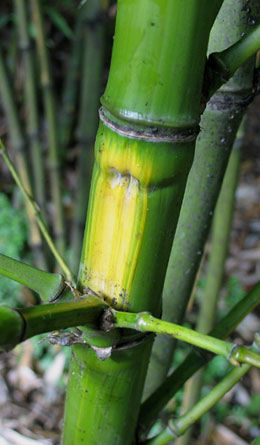 © Noah Bell - www.shweeashbamboo.com
Geographic Origin: Originates from eastern China, it is also found in Japan and Taiwan.
Adult size: 4 to 6.5 metres in height.
Diameter of cane: 1,5 to 4,5 cm.
Foliage: Evergreen.
Type of soil: Moist and deep. Does not like excessive chalk.
Exposure: Partial shade or sun.
Hardiness: -20°C.
Root development: Runner root system (spreading variety).
Characteristics and uses:
This bamboo's foliage is light green. Its green canes have pronounced knots that are marked by a long yellow ridge (sulcus). It is identical in many ways to the Phyllostachys aurea.

The Phyllostachys auera 'Flavescens-Inversa' is quite drought tolerant. It can be used for hedging or as a windbreak, as a single specimen or it is at home in a pot or planter.

It was introduced into Europe in the 1990's. It is still quite rare. It will quite often lose its leaves in winter but they will return in the spring. Its young shoots are edible once cooked.
www.planfor.co.uk