Bamboo Pleioblastus pygmaeus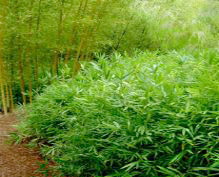 Geographic Origin: Originates from Japan.
Adult size: 0.2 to 1 metres in height.
Diameter of cane: 0,2 cm.
Foliage: Small leaves in clumps.
Type of soil: Moist and deep. Dislikes excess of lime.
Climate: Hardy.
Exposure: Shade, partial shade or full sun.
Hardiness: -20°C.
Root development: Runner root system (spreading variety).
Plantation density: 6 / m².
Characteristics and uses: The main use of the pleioblastus pygmaeus bamboo is as ground cover, to cover banks of soil or to edge borders. It can also be very attractive if planted in a large group. If you really like it you could even plant in a pot or tub to give a touch of greenery to the inside or your balcony.
It is advisable to cut it back to ground level once or twice a year; this will help keep it fresh over the years.
Its foliage forms in very dense green clumps.
www.planfor.co.uk