Southern Magnolia or Evergreen Magnolia or Bull Bay –
Magnolia grandiflora (latin)
Area of origin: Southeast of United States.
Adult Dimensions: Height up to 15 m, width up to 10 m.
Foliage: Evergreen.
Soil Type: Neutral to acid, quite humus-bearing.
Hardiness: Hardy to -16°C.
Exposure: Full sun.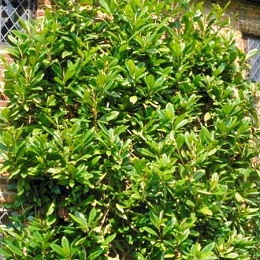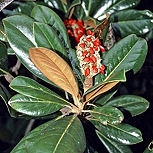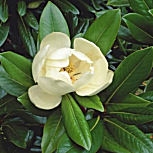 Characteristics and Uses:
The pure white highly perfumed flowers appear in summer. They can measure up to 30cm in diameter. The red seeds leave the fruits once mature. This beautiful tree responds well to cutting and is often planted alone in parks and gardens or in rows.