Swedish Whitebeam –
Sorbus intermedia (latin)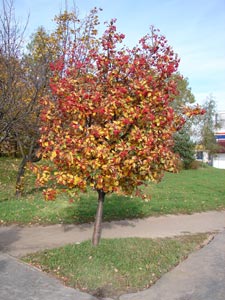 Author: Kajetan Dzierzanowski
Geographical origin: Northern Europe.
Adult dimensions: Height up to 15 m, width up to 5 m.
Foliage: Deciduous.
Type of soil: All.
Hardiness: Very hardy.
Exposure: Full sun.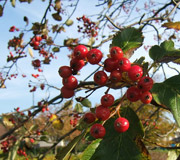 Author: MPF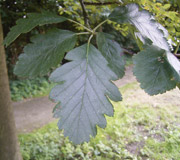 Characteristics and uses:
The Swedish Whitebeam has large and shiny dark green leaves, the underside of which is greyish. Its white flowers appear in May/June and precede the arrival of small red berries. These can be collected and eaten when they are nice and ripe after the first frosts. It has a conical shape although it tends to get rounder as the years go by.
This Whitebeam is often used to create lines of trees but can also be grown as a lone specimen in a garden.