Bamboo Phyllostachys nigra f. henonis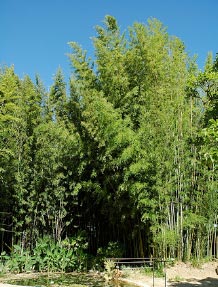 Geographic Origin: Originates from China and Japan, it grows naturally nowadays in India, Korea and Vietnam.
Adult size: 8 to 12+ metres in height.
Diameter of cane: 2,5 to 7,5 cm.
Foliage: Evergreen.
Type of soil: Moist and deep. Does not like excessive chalk.
Exposure: Partial shade or sun.
Hardiness: -25°C.
> Root development: Runner root system (spreading variety).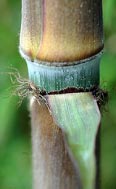 Characteristics and uses:
The canes of this bamboo can take on different colours: olive green if it is in the shade and golden if in the sun. Its leaves are slender, light, and dark green.

It is happiest when planted in clumps, or as a hedge or a copse.

It was introduced into France in 1875 from Japan by the Doctor Hénon, from whom it gets its name, then into Great Britain in the 1890s. The young shoots may be cooked.
www.planfor.co.uk