Caramel tree or Katsura tree –
Cercidiphyllum japonicum (latin)
Areas of origin:
Japan, China. Introduced into Europe in 1864.
Adult Dimensions:
Height up to 20 metres, width up to 20 metres (65.6').
Foliage: Deciduous.
Soil type: Avoid dry soils.
Hardiness: Hardy tolerant to -20°C.
Exposure:
Shade, semi-shade, full sun. In a very sunny position the leaves will fall more quickly.
Speed of growth: Up to 12 metres in 20 years.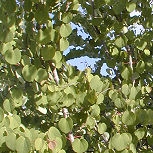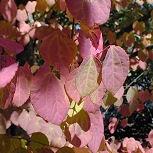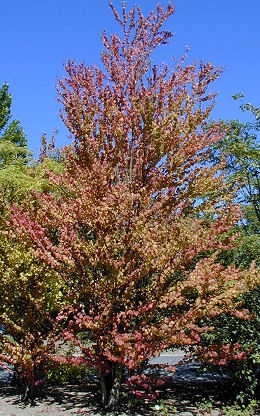 Characteristics and Uses:
This very vigorous tree has magnificent foliage when autumn arrives. The red, yellow, pink and mauve leaves have the scent of caramel. In Germany it is called the cake tree. It can be found in many parks and gardens particularly around lakes. Bonsai enthusiasts find it an excellent subject to work on.