Areas of Origin: Horticultural origin. Hybridization between six French varieties, an English one and a Chinese one. Licence holder: INRA/ ALTERRA.
Full grown size: Height up to 3 metres (10'), width up to 15 metres (50').
Foliage: deciduous.
Soil type: All except marshy
Hardiness: Hardy tolerant to -30°C. Bears marine sprays.
Exposure: Full sun.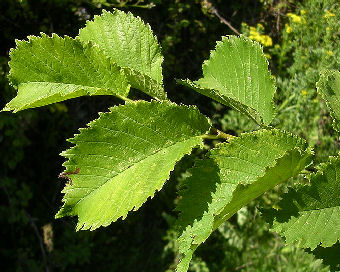 Characteristics and Uses: Thanks to these many hybridizations, Lutèce® elm is one of these which can resist to dutch elm disease . Lutece® name was given in order to thanks Parks and Gardens Services of Paris for taking care of an experimentation plot in Vincennes wood. Its bark is smooth. Its asymmetric and coarse leaves look like those of the common elm. It's simple to plant it in rows thanks to its upright posture. It will be beautiful alone and would enhance your garden or park. It can also be planted in hedging farmland for the happiness of our countryside, because it was totally disappeared since 1970. At least, Lutèce® elm grows up quickly, as more of them love it