Area of origin: Central Africa.
Adult Dimensions: Height up to 60 cm (23.6"), width up to 50 cm (19.7").
Foliage: Evergreen Bright red when young then becoming green brown with a hint of blue.
Soil Type: All.
Hardiness: Hardy to -23°C.
Exposure: Shade to semi-shade, ideal along a hedge or under trees.
Plantation density: 5 / m².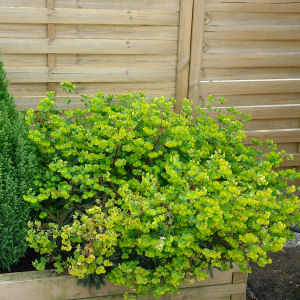 Characteristics and Uses:
A very interesting plant due to its coloured foliage. The green yellow flowers from April to June are also very attractive. This is a robust plant that is ideal to plant in flowerbeds and rockeries.