Geographical origins: South Western Europe.
Adult dimensions: Height up to 20m, width up to 7m.
Foliage: Deciduous.
Type of soil: Preferably dry and acidic.
Hardiness: Hardy to -15°C.
Exposure: Full sun.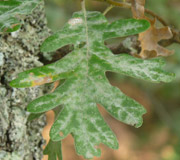 Author: Jack ma
Characteristics and uses:
The Pyrenean oak is found naturally in the forests of Southwest France, northern Italy and Spain.
Its gnarled shape and wood make this a very attractive tree. The wood is excellent for heating.
The leaves are jagged and slightly hairy.
The young shoots are white with a wash of pink.