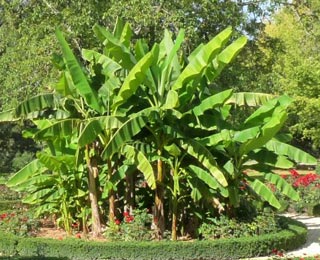 Castle Park Beaulon, Charente-Maritime, France.
Author: Jack ma
Geographical origin: China.
Adult dimensions: Height up to 6 m.
Foliage: Evergreen.
Type of soil: Well drained, improve if lacking in nutrients.
Hardiness: The fronds are sensitive from the first frosts onwards, below -6°C the fronds die but will grow back in springtime.
Site: Full sun, protected from the wind.
Characteristics and uses:
The hardy banana tree (Musa basjoo) is one of the rare tropical plants that can be planted in our gardens!
Its pale yellow blossom will appear in summer, but the fruits that will follow unfortunately will not have enough sun and warmth to become edible.
It is best planted protected from exposed windy sites to avoid damage to its leaves.
In areas with very cold winters, it is necessary to cover it with a fleece and to protect its roots with mulching. It can also be planted in a tub and brought indoors in the winter, into a bright room.