Areas of origin: North Western America. Introduced into Europe in 1880.
Adult Dimensions: Height up to 15 metres (49.2'), width up to 8 metres (26.3').
Foliage: Deciduous.
Soil type: All.
Hardiness: Hardy to -28°C.
Exposure: Full sun.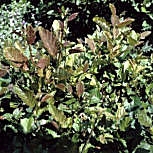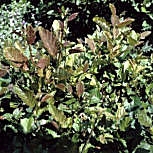 Characteristics and Uses:
The Red Alder has dark red branches and its bark becomes red when it is cut. It is the largest Alder. It is the most widespread Alder in Canada. Like all other Alders, it likes cool and humid areas and it is not fussy about the quality of soil.
List of Alders:
Black alder (Alnus glutinosa), can be planted in very wet areas.
Grey alder (Alnus incana), grey upturn of the leaves, can be planted in poor soil.
Italian alder (Alnus cordata)