Escallonia organiensis 'Aureovariegata' –
Escallonia organiensis 'Aureovariegata' (latin)
Area of origin: Southern Brazil.
Adult Dimensions: Height up to 2m, width up to 2m (6.6')
Foliage: Evergreen
Soil Type: Avoid soil with too much lime. Mix in compost too avoid soil being too compact.
Hardiness: Tolerant to -5°C.
Exposure: Full sun.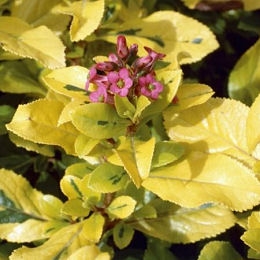 Characteristics and Uses:
Very beautiful pink flowers from July to September. Bushy and vigorous this beautiful shrub has stunning green and bright yellow leaves. Plant alone or in a flowering hedge, tolerates coastal conditions.
List of Escallonia:
Escallonia 'Iveyii'
, fragrant white blossom in summer, shiny leaves, dark green, hardy to -10°C.
Escallonia macrantha
, deep pink or red blossom depending on the type, shiny green leaves.