Black Locust or False Acacia –
Robinia pseudoacacia (latin)
Areas of origin: East of United States. Introduced in 1601.
Full grown dimensions: Height up to 25 metres(82'), width up to 15 metres (49,2').
Foliage: Deciduous.
Soil type: All, except extremely wet. Dislikes excess of lime.
Hardiness: Hardy tolerant to -34°C.
Exposure: Full sun.
Growth rate: Up to 1 metre in the first year.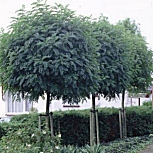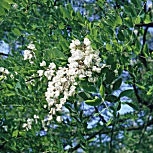 Characteristics and Uses:
Fast growing spreading tree producing beautiful fragrant white flowers in clusters during the months of May and June. The honey produced is of very good quality. It is a wood that is very hard and strong and is sought after for making fence posts and poles. For the best production of wood it should preferably be planted in acid soils, light and deep.