Home > Plants > Maple, Japanese 'Atropurpureum'
Maple, Japanese 'Atropurpureum' / Acer palmatum Atropurpureum
Buy: Maple, Japanese 'Atropurpureum'
Everything about: Maple, Japanese 'Atropurpureum'
Japanese Maple 'Atropurpureum' -
Acer palmatum atropurpureum (latin)
Area of origin: Japan, China and Korea.
Adult Dimensions: Height up to 8m, width up to 8m (26.3').
Foliage: Deciduous.
Soil Type: Deep and moist, mix in organic matter. Dislikes lime.
Hardiness: Hardy to -17°C. Dislikes spring frosts, cold winds or an atmosphere that is too dry.
Exposure: Shade and semi-shade.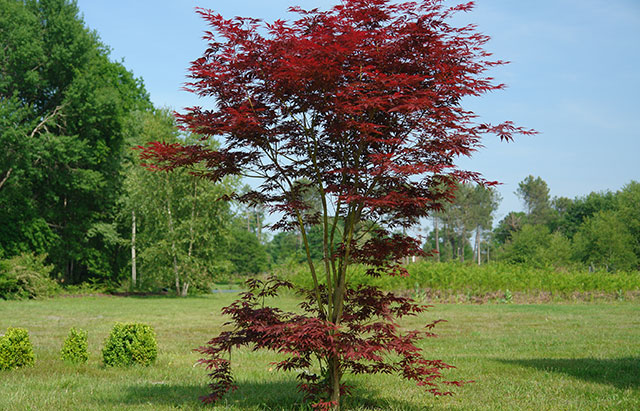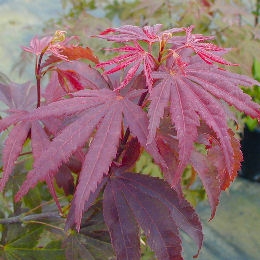 Characteristics and Uses:
Fantastic red-purple leaves in spring turning red-bronze in summer. This vigorous little tree is planted alone, in groups, in flowerbeds and is a stunning addition to any park or garden. Well known throughout the world for its use in bonsai, it is beautiful tree to have anywhere and can be planted in a container.
List of Japanese Maples:
'Butterfly' Japanese Maple (Acer palmatum 'Butterfly')
, finely serrated green grey leaves with pinkish white margins
Deshojo Japanese maple (Acer palmatum 'Deshojo')
, bright red foliage throughout the spring and the autumn, light green in summer
Japanese Maple
, beautiful autumnal foliage
Japanese Maple 'Dissectum garnet' (Acer palmatum 'Dissectum Garnet')
, weeping shape, finely serrated red leaves
Japanese Maple 'Dissectum viridis' (Acer palmatum 'Dissectum Viridis')
, weeping shape, light green finely serrated leaves, turning golden to red in the autumn
Ornatum Japanese maple (Acer palmatum 'Ornatum')
, compact rounded shape, finely serrated leaves, dark red
See the catalogue of all the Maples
See the Japanese Maples catalogue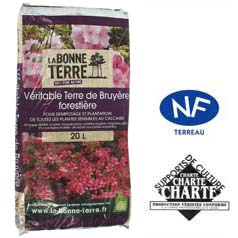 ERICACEOUS COMPOST: Suggested use INDOOR PLANTS: Anthuriums, Begonias, Rubber plant, ficus... & OUTDOOR PLANTS: Hydrangeas, Azaleas, Heathers, Rhododendrons, Camellia japonica (Spring Camellia)...

See our offers
Your reviews about: Maple, Japanese 'Atropurpureum'