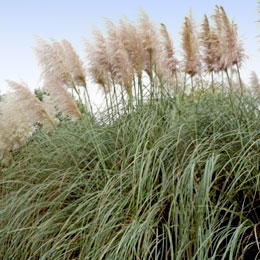 Areas of origin:
Brazil, Argentina, Chile.
Adult Dimensions:
Height up to 2-3 m (6.6-9.8'), width up to 3 m.
Foliage:
Evergreen.
Soil Type:
All.
Hardiness:
Hardy to -20°C.
Exposure:
Full sun.
Characteristics and Uses:
Very decorative and impressive plant, the large pink plumes are used in dried floral arrangements. It can be planted alone, in flowerbeds, and on banks to prevent erosion or as a windbreak in coastal areas.