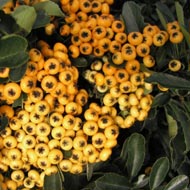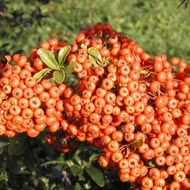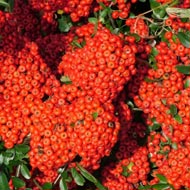 PYRACANTHA SAPHYR ® Yellow 'Cadaune'
PYRACANTHA SAPHYR ® Orange 'Cadange'
PYRACANTHA SAPHYR ®
Red 'Cadrou'
Geographical origin: Southern Europe and Asia Minor.
Pyracantha Saphyr: Manmade- Hybrid.
Adult dimensions: Height up to 4m, width up to 2m.
Foliage: Evergreen.
Type of soil: any.
Hardiness: Hardy to -15°C.
Exposure: Full sun to partial shade.
Characteristics and uses : The fruits of the Firethorn Saphyr (Pyracantha Saphyr) will give a magnificent display of colors from the autumn right through to the end of winter. Particularly liked by the birds, the berries are plentiful. They are shown off even more thanks to the shiny deep green leaves of this Pyracantha. The Firethorn Saphyr will carry on pleasing you in the summer when it is covered with white flowers. Beekeepers also like this shrub because of its high nectar content.
The Firethorn Saphyr is the result of horticultural research; they have been specifically selected because of their high resistance to fire blight and leaf spot.
Thanks to their thorns, the Pyracantha can also be used to make up protective yet pretty hedges.
The Pyracantha is as pleasing to the eye whether planted on its own or mixed in among the shrub border.