Bamboo Bambusa multiplex 'Alphonse Karr'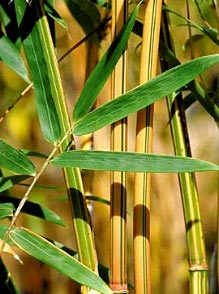 Geographic Origin: Originates from China and Japan, it grows best in the tropical regions of the south and south east Asia.
Adult size: Up to 3 metres in height.
Diameter of cane: 1 to 2 cm.
Foliage: Evergreen.
Type of soil: Moist and deep. Does not like excessive chalk.
Climate: Does not tolerate cold temperatures.
Exposure: Sun.
Hardiness: -5°C.
Root development: Clumper root system (non-spreading variety).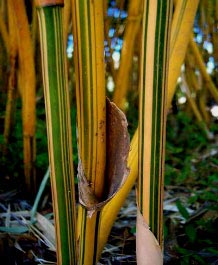 Characteristics and uses:
Its canes are yellow orange in colour with vertical green stripes. Its leaves are green and slender. It has a weeping shape.

Its principal charm lies in the coloration of its canes, which turn from yellow to pink, then orange before going green.

It is recommended to keep the bambusa multiplex 'Alphonse Karr in a pot or container as it does not like cold temperatures , it is a good idea to bring it inside as soon as the cold nights set in.
www.planfor.co.uk