Hardy kiwi, Tara Vine 'Issai' - Actinidia arguta 'Issai' (latin)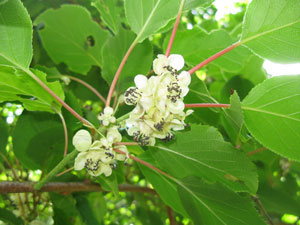 Author: Qwert1234
Geographical origin:
Asia.
Adult dimensions:
Climber, Height up to 6 m, width up to 4 m.
Foliage:
Deciduous.
Type of soil:
Light and free draining.
Hardiness:
Hardy to -20°C.
Site:
Mid-shade to full sun.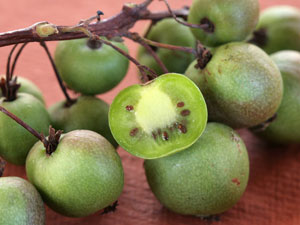 © FOOD-micro - Fotolia.com
Characteristics and uses:
This climber of the Kiwi family has everything going for it! In the spring, its fragrant blossom perfumes the garden. It is followed by an abundance of delicious small fruits (the hardy kiwifruit), which have a soft skin and a sweet flesh. The small fruits that you can harvest in the autumn have as much vitamin C as their bigger cousin, the kiwi. Finally, this specie being self-fertile, even one planted on its own will produce fruits.

Plant the hardy kiwi at the base of a chain-linked fence or along a wall on which you have placed a trellis, preferably on a pathway to enjoy its springtime fragrance and its autumnal fruits.
www.planfor.co.uk