Bamboo Phyllostachys rubromarginata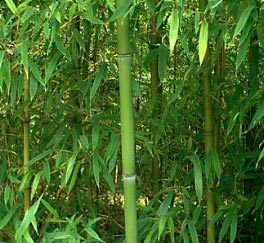 Geographic Origin: Originates from China, it is mostly found in the South on the border with Vietnam and in the provinces of Guangxi, Guangdong and in the Special Administrative district of Hong Kong.
Adult size: 5 to 7.5 metres in height.
Diameter of cane: 2 to 3,5 cm.
Foliage: Evergreen.
Type of soil: Moist and deep. Does not like excessive chalk.
Exposure: Partial shade or sun.
Hardiness: -28°C.
Root development: Runner root system (spreading variety).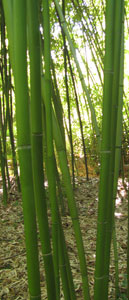 Characteristics and uses:
This bamboo's canes are light green and very strong, the sheaths are edged with red at the top. Its foliage is green and supple.

This bamboo can be planted in a hedge, where it will make an ideal windbreak for the garden. It could equally be grown in clumps or b grown as part of a border.

Introduced into Europe in 1979 it still remains quite rare. It is one of the hardiest bamboos that are grown in the west. Its prefix "rubro" and Chinese name "hongbianzhu" come from its red edging. It is good to know that it can tolerate occasional water logging. Its young shoots are edible.
www.planfor.co.uk