Area of origin: Hybrid (1910), cross between Fatsia japonica and Hedera helix.
Adult Dimensions: Height up to 1.5m (4.9'), width up to 1.8m (5.9').
Foliage: .Evergreen.
Soil Type: All.
Hardiness: Tolerant to -10°C for short periods. Tolerates pollution.
Exposure: Semi-shade to full sun.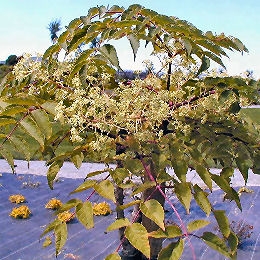 Characteristics and Uses:
This beautiful shrub with grey green leaves with white margins produces little white flowers in autumn. Beautiful shrub with green grey foliage with white margins, producing little white flowers in autumn. It is known as the ivy of Ireland and training it will create the best display. It creates a beautiful effect inside or can also be planted in open ground outside.