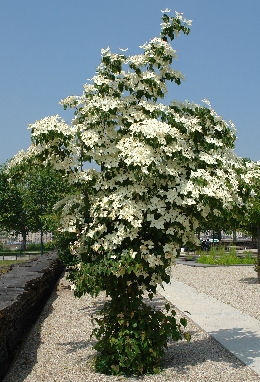 Bordeaux's Botanical Garden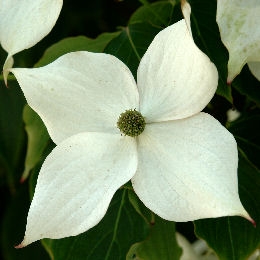 Area of origin: Japan and Korea.
Adult Dimensions: Height up to 10 m (32.8'), width up to 8 m (26.3').
Foliage: Deciduous.
Type of soil: Dislikes lime, rich soil.
Hardiness: Hardy to -20°C.
Exposure: Semi-shade to full sun.
Characteristics and Uses: The leaves turn a beautiful shade of red in autumn. The little white flowers appear in May and June. The pink red fruits are edible they are called drupes. They hang in long bunches in the autumn. Very interesting when used in flowerbeds and very effective planted alone.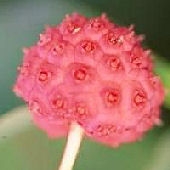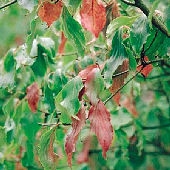 List of Cornus:
Bloodtwig Dogwood (Cornus sanguinea)
, off white blossom in May - June, red stems in winter
Cornelian Cherry Dogwood (Cornus mas)
, early bright yellow blossom in February - March, high nectar producing, edible bright red berries in summer
Flowering Dogwood (Cornus florida)
, superb star shaped blossom at the beginning of spring, red foliage in the autumn
Japanese Cornel Dogwood (Cornus officinalis)
, yellow blossom, abundant and scented as early as February, edible berries
Red Barked Dogwood (Cornus alba)
, small creamy white flowers in May - June, bright red stems in winter
Wedding Cake Tree (Cornus Controversa Variegata)
, Magnificent variegated green and off white foliage that will take a red tint in the autumn. It has a spreading shape and an extremely sculptural aspect. Abundant blossom from May to June.