Shrubs and trees with stones
Rocks enhance plants, as they do in a nature. Stones do offer numerous advantages to the plants. They are not so easy to work with however, if used without care stones can give an artificial effect when a natural one is sought after!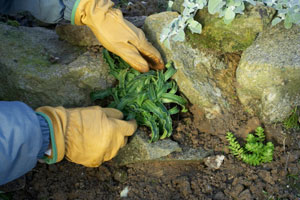 Stones for plants
The presence of pieces of stones is beneficial to plants. Indeed, stones and rocks diminish variations of temperatures in their surroundings. They cool down and warm up more slowly than the soil around them, thus keeping neighbouring plants from sudden variations of temperature.
In summer, the soil under the stones is not as dry and plants appreciate finding a little bit of water, to remain in good health. Finally, stones give a natural feel to plants, enhancing their shape and colour. It is particularly true for ground covering plants as their stems lie down on the ground.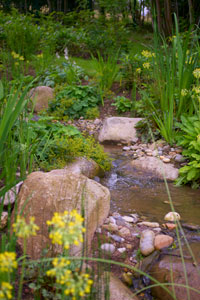 Alone or grouped ?
You can display stones and rocks in different ways. The success of your creation depends largely on the number of stones you have and their size.
If you only have at your disposal small stones, place them as a layer as you would with gravel. Medium size stones (between 10 and 50 cm in length) are best used for the creation of small stonewalls (see further on).
If, on the other hand you have at your disposal large stones, at least 50 cm long (at the longest point) things are different. You can for example place them standing up, on their own. Bury at lest a third of the stone, the ideal being to bury half of it for stability purposes. Alternatively, wedge it with cement, 10 cm below the ground surface. Then, a big erect stone marks the turn of a garden path or give height near a ground covering plant. That kind of setting does not look natural.
If you want to obtain a more realistic effect, then lie them down. In that case, it is also necessary to group them, close together, just posed on the ground. Then grow rockery plants or a small shrub in the biggest spaces. Finish with ground covering plants elsewhere, they will fill the gaps left over. The Baby tears plant (Soleirola soleirolii) is hard to beat, but the sagina subulata and the creeping thyme (serpolet) are also good for that usage.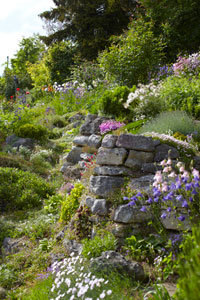 A stonewall
One of the best ways to enhance your plants using minerals is to create a stonewall. You can just pile up stones, flat, make it at least 50cm wide, thus creating a dry stonewall. It is also a very good physical exercise!
This type of small wall is ideal at the foot of a bank from which you want to stop the soil from sliding down. The biggest the stones, the larger the wall will be and the better its "embankment" effect will be against gully erosion. You can then plant the top of the wall, adding some soil to it first.
You can install plants vertically, in the pockets of soil created, choosing only suitable ones: sedum, blue bells, cineraria… They are all self-seeding plants !