Plants and air pollution
They sometimes suffer from it and, in other cases, they act against it! Learn how to use plants to improve your environment.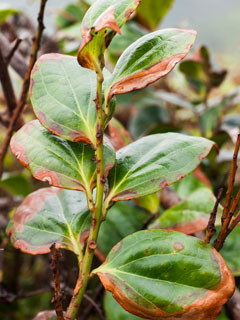 Result of pollution by sulphur dioxide.
The effects of air pollution on plants
In the air, pollution is made of toxic gases such as ozone or sulphur dioxide as well as very fine particles suspended in the air. On plants, gaseous air pollutants attack the leaves provoking a decline by concentric areas, especially on the leaves' edges. As for black particles, they finish to completely obstruct the respiratory pores of the leaves. Deprived of light because of this layer of particles and asphyxiated, the plant dies rapidly. As for Carbon dioxide, it acts as a stimulant to the plants: It is just like fertilizer to them!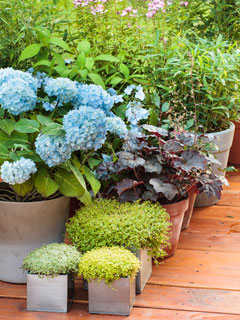 The Baby-tears or 'Helxine' (at the forefront) is efficient to catch the ambient pollution with its 'mossy' look.
Sensitive and resistant plants
If your garden is in a polluted air area, avoid plants which can suffer from foliage clogging or from attacks from chemical compounds : Deciduous oak trees, Rock-Roses, Conifers (especially Pines) , Ferns, Beech trees, Lavenders, Rhododendrons and Rosemary.
Plants which resist to air pollution, on the other hand, have thick leaves recovered with a protective layer. They are, for example, the Common Bladder Senna (Colutea), Bamboos, Flowering Cherry Trees, Fig Trees, Gingko, Hollies, Common Laurels, Ivies, Magnolias (M. grandiflora), Pittosporums...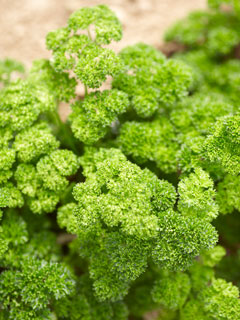 Curly Parsley is also very efficient to catch pollution: not to be ingested in polluted area, just used as a decoration!
Clean up the air?
Outside, the air volume is too important to envisage cleaning up the air. But the environment will be healthier where a large quantity of plants is, as they act as an air filter. Some plants absorb more atmospheric pollution than others. They are the plants which offer a large exchange area with the ambient air, as their leaves are plentiful or as they have a particular shape. The champions, all categories confounded are the mosses. They capture more air pollutants than plants which have large leaves, and have a smaller surface despite appearances! Plants which have mossy foliage, like curly parsley, or small leaved shrubs and bushes are therefore more efficient than the others.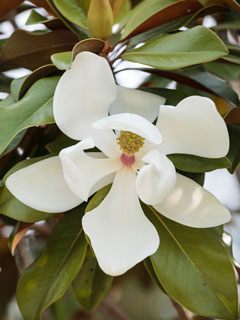 Magnolia is not sensitive to pollution!
Indoors, a better air
The air inside the house is often more polluted than the air on the outside as all the pollution given out by electrical apparatuses, paints, synthetic materials etc…is added. Yet plants growing in pots, indoors, have the ability of clearing from the air, a great quantity of these compounds. The plant acts as a sensor, while it is the soil bacteria, around the roots, which is in charge of neutralizing the harmful air polluting compounds. All plants in pots are able to act and there is not a particular plant against a particular compound: the essential is to have greenery around!