Shrubs and trees next to the house
Next to buildings, the conditions for plants are not the same as in the garden; therefore, it is important to take care when selecting those to grow. Furthermore, be careful not to damage the foundations!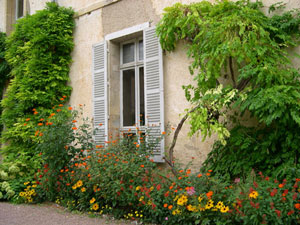 You can grow less cold resistant plants as it is warmer.
Particularities
At the base of a house, the soil is often bad quality because it was disturbed when the house was built. It often contains more stones or sand than elsewhere. In addition, the wall foundations mean that plants cannot be grown within 20cm of the wall because of the hard base. The dry stony conditions are exaggerated by the fact that this spot is warmer than elsewhere. Even at the base of a north-facing wall, it will be warmer. The house looses heat through its walls and consequently warms the plants that back onto them. There is less rainfall because of the roof overhang, which keeps the rain about 50cm away form the wall even if there are no gutters.
These conditions make it difficult to choose plants to grow against the house. The roots must not spread out far and any thick trunks are banned. On the other hand, you can grow less cold resistant plants as it is warmer, as long as they do not need damp soil. It is worth trying to choose plants with a winter appeal, because in winter we venture less into the garden but still pass back and forth in front of the house!
What to choose ?
Next to the house, do not plant a tree or a large shrub that is going to be higher than 3 metres. Choose evergreen varieties with scented flowers so that you can open the windows and smell their perfume! Sarcoccoca, Osmanthus, Shrubby Honeysuckle (Lonicera fragrantissima), Witch Hazel (Corylopsis) with its scented catkins and Box are all well suited. Looking at flowers, around the base of the house is ideal for Agapanthus (African Lilly),Butterfly Lavender (Lavandula stoechas), Sages and Catmint as long as the wall is sunny. If it is shady, it is best to grow Lentern roses (Helleborous Orientalis), Pulmonaria and Bergenias for example.
Things to remember
If the ground around the house is covered by plants, it will tend to be damper. However, you do not need to worry about water running down the walls of your cellar because contrary to the old belief plants do not attract humidity. On the other hand, you could insulate the wall from the plants by covering it with a plastic sheet down to a depth of 80cm.This would stop the roots from probing into the crevices of the foundations. This is a wise precaution if the foundations are made of stone. Also give the plants a dose of compost when they are initially planted because the soil will often be poor and a helping hand will be appreciated.