Shrubs and trees for herbaceous border
A sea of colours, spread out blossoming periods for a garden that all you friends admire: It is not so complicated! All you need to do is choose well and carefully place your plants. Perennials offer all the necessary diversity in order to do so.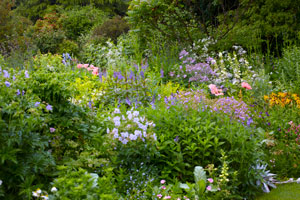 A good plan
The most successful flowerbeds are often also the easiest to look after. For that, you need to trace on a piece of paper the shape of the border you want to create (plan view). Still using crayons, mark out different areas as you wish, by colour scheme for example. Keep the drawing as simple as possible and you are more likely to succeed. Unless you are looking out for particular effects, like a precise colour for example, base your choice on available plants in nurseries. Do take into account flowers and foliage colours, the height of the plants as well as the season in which they are the most interesting. All there is to do, still on paper, is to associate your choice of plants differently to find the most advantageous, successful combination or the one that will enhance and fit the chosen site best.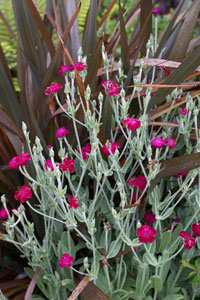 Tallest at the back
If you do not want a headache, organize your border in successive waves of plants, starting from the front to the back of the border. For example, place at the front small plants, which will not grow higher than 20 cm. Place behind plants that will grow a little higher, let us say 30 to 50cm and carry on as such until you reach the back of the border where you can place tallest giant perennials and shrubs.
The quantity of plants to buy depends on each variety; certain develop quicker than others do. The smallest, ground covering plants must be planted close together, count 6 to10 plants per m². Large flowering perennials do need a lot of space, and sometimes you only need to plant 1 for every 1 m² to occupy the entire space in a few years. If you soil is good and you are patient, reduce the density. If your soil is poor or you are in a hurry, increase it. It is best to plant everything the same year otherwise you will be facing a "still working on it" flowerbed for a long period. Otherwise, you could start by creating a small flowerbed and increase its size in the future. This allows spreading out the workload and the spending, but increases the difficulty of creating a successful border. Indeed, you must think out the extension of the border so that you obtain a harmonious display, taking into account the existing plants.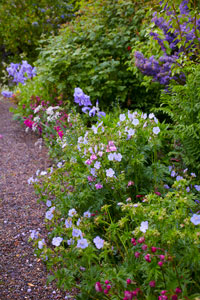 Risk free guarantee
You cannot make a big mistake: If a plant does not seem to be in the right place, just remove it! In the spring, before it starts to grow, dig it out with a fork and plant it back straight away, in a more suitable spot. Do not forget to replant something in its place, unless the neighbouring plants had grown a lot the last year.