Shrubs and trees for coastal gardens
Along the coast, there exist very specific conditions, but they are not problematic, in fact, they are the opposite! Take advantage of the situation and make gardening easier and the garden more beautiful.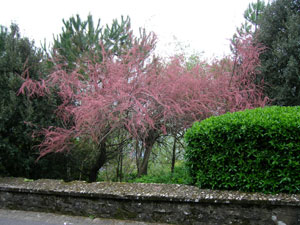 Particularities
The most important factor in a coastal location is the wind which often blows in off the sea, but which can cause a lot of damage when it decides to blow in the other direction and forces the plants to bend the opposite way. The sea mists, which are laden with salt, can also burn the leaves of plants and go as far inland as 2 km. The ground near the sea can be very sandy, this does raise concerns about the level of nutrients available, and in summer, it dries out to a good depth.
These inconveniences however are largely compensated for by a much milder climate than found further inland. The winters are mild and damp whilst the summers are slightly cooler than elsewhere. The plants therefore have a longer growing season and suffer less chance of a summer drought (although there is a risk). This allows you to grow less hardy plants and those which demand moisture throughout the summer. However, do avoid plants with fine or serrated leaves, which are more easily damaged by the wind than others are. Japanese Maples (Acers) will really suffer in a coastal location.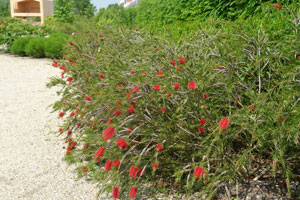 What to choose ?
Plants that are able to tolerate the sea mists are best found among the tough leaved shrubs : Griselinia, Olearia, Oleasters (Eleagnus), New Zealand flax (Phormium), Pittosporum, Holm Oak... Shrubs that grow naturally by the sea are also ideal: Tamarisk, Sea Buckthorn (Hippophae rhamnoides)... Grow them in the more exposed sites and use them to protect the more fragile plants like Christmas Camellia, Spring Camellia, Hydrangea, and Veronicas (Hebes) all of which are very happy next to the sea. Do not forget those other very decorative plants that would struggle further inland, such as Michelmas Daisies, African Daisies, Callistephus, large flowered Fuchsias, Dwarf Morning Glory (Convolvulus cneorum), Helichrysums, etc.
Things to remember
If your garden is very exposed to the wind, it is best to begin by planting hedges and leave them to grow for a few years. This will provide shelter and allow you to grow more delicate plants protected from the wind and sea mists. You could also plant some tall growing shrubs which would further help protect your garden.
Important fact
Do not grow plants that could reseed themselves in the nearby sand dunes, which are a very fragile habitat. Ice plant (Carpobrotus), Japanese rose (Rosa rugosa) and Groundsel tree (Baccharis halimifolia) are three plants that you must avoid if you live less than 5km away from the sea.