Roman Camomile -
Chamaemelum nobile (latin)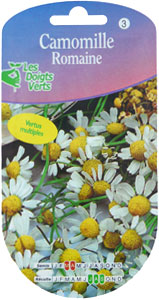 Type of soil: Neutral to acid, well drained and sandy.
Sowing time: March to April.
Harvest time: July to September.
Site: Full sun.
Sow directly in the ground: Sow thinly in rows that are 15cm apart. Cover with fine soil and water. Keep moist until they come through.
Care: Water moderately. Harvesting can begin as soon as the flowers appear.