What do I need to do after a drought's episode ?
Some plants give the impression of suffering, some foliage are scorched. However, there is nothing serious and plants are often more resilient than we think. The right actions will help your garden to get back to health rapidly.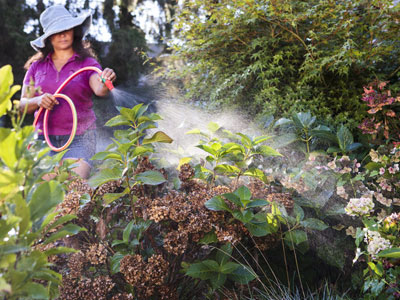 Spray the plants will help them to get better.
It is not useful to mulch the base of a thirsty plant, as the harm has already been done. When drought has hit, the objective is no longer to keep the plants growing but to do the necessary to bring the garden back to health in the right conditions.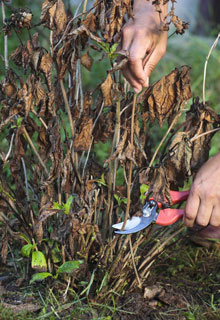 Cutting the plants right back is often the only way to save them.
It is best to have fallen leaves than dried ones
Do not worry if a shrub has lost the best part of its foliage. Indeed, this symptom indicates that the plant has gone into a protective stage facing drought by losing its foliage, as if it was autumn. Depending on the cases, the plant will either start growing again when rain returns at the end of the season or will wait like this until next spring. In that case, there is nothing more to do than wait. If the stems' extremities are dry, a pruning will be necessary, but not before the autumn.
If the leaves have dried and are still on the stems, it is more worrying. This means that the whole of the plant's tissues has lost its water. This often happen in evergreen shrubs as the fall of leaves is less easily done. Prune them lightly, shortening the branches' length by a third and give them water. You will not be able to save the Conifers which have dried out; they will have to be pulled out.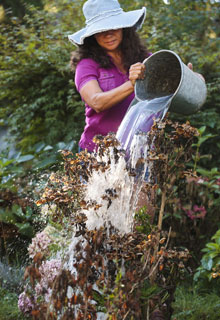 A generous, quick supply of water saves the plant.
Relieve plants which are suffering
Plants which have not lost their leaves but seem completely limp need a little bit of water to get over this bad period. Supply the equivalent of one watering can per plant. Shorten the greenery by a third if it is a shrub. If it is a plant which grows back easily from the base (like Oregano or perennial Geraniums), then cut it right back. New leaves will form and the drought will only become a bad memory in a few weeks.
Replace the most fragile
Because of the climate change, episodes of summer's droughts are likely to be more frequent and above all, less predictable. Therefore it is better to simplify your gardening jobs in growing plants which are able to withstand drought's episodes while still looking beautiful and this, without requiring your help. Hostas, Hydrangeas and Ferns can only stay looking beautiful in shaded, mountainous or northern gardens. In the South, it is best to grow plants like Yuccas, Blues Festucas, or again Olive-leaved Germander and more classic plants like Lavenders and Rosemary. On the other hand, Roses resist well to strong drought and have their place in the garden of tomorrow.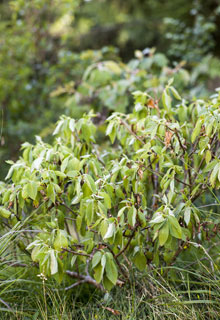 A plant which is frequently thirsty has not got any future in the garden...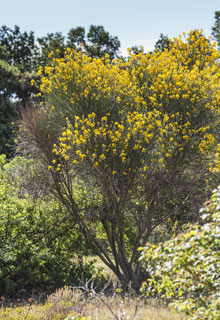 The Spartium Junceum (Spanish broom) is a real 'camel plant' which thrives even in the driest of soils.
Think about bringing some shade into your garden
To cope more easily with drought episodes in years to come, grow plants which will subdue the strong sunrays during summer. In bringing in shade to the neighbouring plants, they reduce the harmful effects that drought brings and help the plants to get over this episode better. The most suitable for this use are Buddleias, Berberis and evergreen oak trees (Quercus Ilex (Holly Oak), Cork Oak, Quercus agrifolia (Coast Live Oak)…).