Joists and bearers in treated class IV pine
The bearers and joists are crucial elements in ensuring the success of your decking.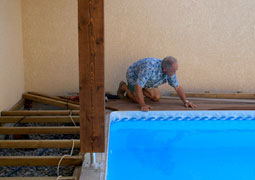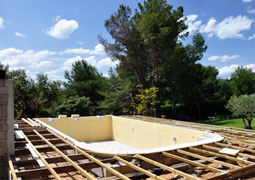 It is important to choose the right materials based on which of the following two cases applies:
Laying decking on a solid base: use bearers that are securely fixed to the base using screws and concrete plugs.
Laying decking on post: use joists, which are stronger than bearers and rest on the posts (allow one post for every 80cm length maximum).
In certain cases it is possible to lay the bearers on a structure made with joists. This could be used for a raised construction on stilts for example.
To ensure a solid base for your decking, allow 3 metres in length of bearers for each square metre, approximately one bearer every 30 to 35cm.
Fix your decking planks to the bearers using stainless steel screws, taking care to pre drill the planks( this will avoid splitting).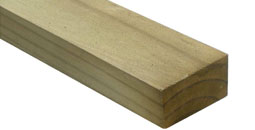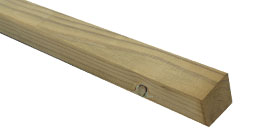 Joist:
Section: 60x150 mm
Length: 2,40 m
Joist in treated class IV pine
With knots
Bearers:
Section: 40x60 mm
Length: 2,40 m
Bearers in treated class IV pine
With knots
General characteristics:
Naturally rot resistant: class IV
Double pressure treated (Bethell process)
Water content of wood prior to treatment less than 14%
Recommended for uses where in contact with ground
Average density: 650kg/m3 at 12% water content
Colour: olive brown