Bamboo Pleioblastus juxianensis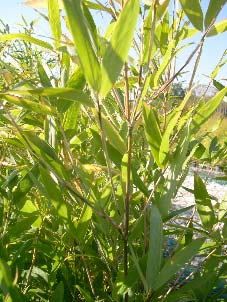 Geographic Origin: Originates from Zhejiang (coastal area of Southeast China).
Adult size: 1 to 3 m. in height.
Cane diameter: 1 to 2 cm.
Foliage: Evergreen.
Type of soil: Moist and deep. Does not like excessive chalk.
Exposure: Partial shade or sun.
Hardiness: -20°C.
Root development: Runner root system (spreading variety).
Characteristics and uses:
This bamboo has long leaves that are soft green in colour. The foliage is slender yet dense although not impenetrable.

The Pleioblastus juxianensis is suitable for all types of planting; in hedges, in groups, in tubs or in planters.

It is recommended that it is sheltered from northeasterly winds.
www.planfor.CO.UK