Pink Wisteria 'Pink Ice' -
Wisteria floribunda Pink ice (latin)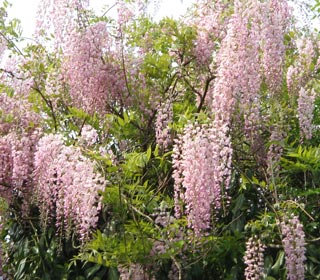 Author: Meneerke bloem
Geographical origin: Japan.
Adult dimensions: Length of the stems up to 10 m.
Foliage: Deciduous.
Type of soil: Moist and light.
hardiness: Hardy to -20°C.
Exposure: Mid-shade to full sun.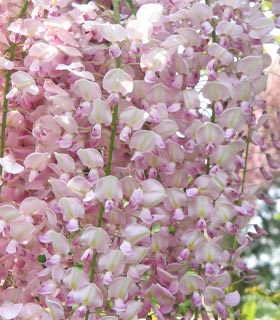 Author: Meneerke bloem
Characteristics and uses:

The Wisteria 'Pink ice' offers a remarkable blossom in May. Its flowers, in trails of 40 to 60 cm are pink and lightly scented.

Give a strong support to you Wisteria. Grown on a pergola or arbour, the wisteria will bring a touch of romanticism to your garden.