Home > Plants > Willow, corkscrew weeping
Willow, corkscrew weeping / Salix babylonica pek. tortuosa
Buy: Willow, corkscrew weeping
Everything about: Willow, corkscrew weeping
Corkscrew Weeping Willow –
Salix babylonica pekinensis 'tortuosa' (latin)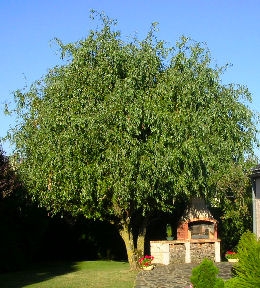 Area of origin: China, Korea.
Adult Dimensions: Height up to 15 m, width up to 15 m (49,2').
Foliage: Deciduous.
Soil Type: All with a preference for rich soils.
Hardiness: Hardy to -34°C.
Exposure: Semi-shade to full light.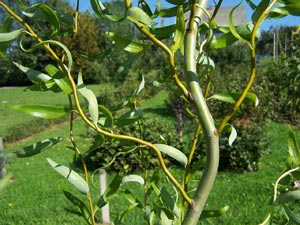 Author: Opioła Jerzy
Characteristics and Uses:
The very flexible branches of this willow are curiously twisted and their ends close to the ground. The closely growing leaves measure up to 15cm long. Green in colour they become golden yellow in autumn. The branches are an olive green colour.
Planted alone to gain maximum benefit from the trailing and twisted nature of the branches.
List of Willows:
Almond Leaved Willow (Salix triandra), small finely serrated leaves, slender branches, contorted and fluted
Coyote Willow (Salix exigua), extremely narrow leaves, silvery, erect branches, pinkish in colour, extremely decorative in winter
Crack Willow (Salix fragilis), finely serrated leaves, greeny brown branches, glabrous, easily breaks off
Creeping Willow (Salix repens), shiny green leaves with glossy underside, pubescent browny grey branches, excellent ground cover
Dwarf Purple Willow (Salix purpurea 'nana')
Eared Willow (Salix aurita), grey green foliage with whitish underside, numerous contorted branches, dislikes chalky soil
Goat Willow (Salix caprea), dark green leaves with whitish underside, silvery catkins, red and glabrous branches, often used for floral compositions
Grey Willow (Salix cinerea), dark green foliage with ash grey underside, velvety grey juvenile branches
Japanese Dappled Willow (Salix integra 'Hakuro Nishiki'), superb tender green foliage, mottled with off white and pink tones
Laurel Willow (Salix pentandra), finely serrated and fragrant leaves, browny green branches, glabrous and shiny
Purple Willow (Salix purpurea), rounded shape, silvery grey foliage, dark purple branches
Rosemary-Leaved Willow (Salix rosmarinifolia), hairy leaves, green with white underside, red branches
White Willow (Salix alba), extremely decorative silvery look, glabrous olive green juvenile branches
See the Willows catalogue
Your reviews about: Willow, corkscrew weeping