Rose 'White Fairy'® -
Rosa 'White Fairy'® (latin)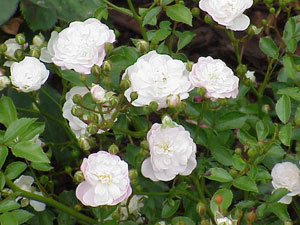 © Kurt Stüber
Geographical origin: Asia.

Blossom: Continual flowering.
Flower diameter: Approximately 3 cm.
Fragrance: None.
Adult dimensions: Height up to 0.80m, width up to 0.80m.
Foliage: Deciduous.

Type of soil: Any, except too humid.
Climate: Hardy -20°C.
Site: Full sun.
Planting spacing: Every 60 cm.
Characteristics and uses:
White variation of the rose 'The Fairy'®, the 'White Fairy'® rose must have a place in your garden! Ideal in borders, or in low edges, this rose does not need much looking after and gives an abundant blossom from June right through to the first frost.
It will go beautifully with other roses such as 'The Fairy'® and 'The Fairy Rubra'®.