Rose 'La belle sultane' or rose 'Violacea'® –
Rosa 'La belle sultane' or Rosa 'Violacea'® (latin)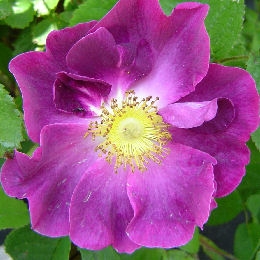 Breeder: Jahrhunbert, 1800.

Blossom: No Continual flowering.
Flower diameter: Approximately 6 cm.
Fragrance: Strong.
Adult dimensions: Height up to 1.5m, width up to 1m.
Foliage: Deciduous.

Type of soil: All, except too wet.
Climate: Hardy to -15°C.
Site: Semi-shade to full sun.
Planting spacing: Every 80 cm.
Characteristics and uses:
The rose 'Violacea'® has a very beautiful rose with highly fragranced dark pink-violet single flowers. This magnificent rose can find a home in flowerbeds, in isolation or in containers on terraces and balconies.