Rose 'Abraham Darby'® Auscot -
Rosa 'Abraham Darby'® (latin)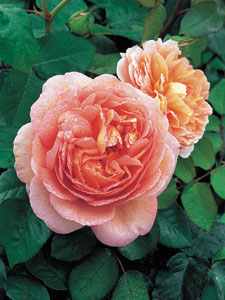 Breeder: David Austin, 1985.

Blossom: Continual flowering.
Flower diameter: 8 cm.
Fragrance: Fruity Strong.
Adult dimensions: Height up to 1,5 metres, width up to 1,5 metres.
Foliage: Deciduous.

Type of soil: Rich and free draining.
Climate: Very hardy.
Site: Partial shade.
Planting spacing: 1m between each plant.
Characteristics and uses:
The Rose 'Abraham Darby'® has a well-formed shrub of shapely, bushy growth. In early summer it is studded with large, deeply cupped blooms in shades of pink, apricot and yellow, and in spite of their size, these continue to be produced for the remainder of the season. An excellent vigorous shrub. A rich, fruity fragrance with a refreshing sharpness.