Groundsel Tree or Sea Myrtle –
Baccharis halimifolia (latin)
Area of origin: America. Introduced into Europe in 1686.
Adult Dimensions: Height up to 2.5m (8.2'), width up to 1.5m (4.9') .
Foliage: Deciduous.
Soil Type: All.
Hardiness: Hardy to -26°C.
Exposure: Full sun.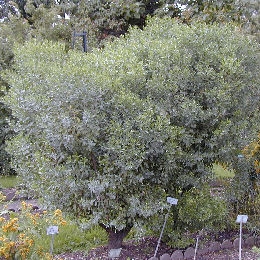 Characteristics and Uses:
Spectacular white flowers in large panicles from characteristic silver grey leaves are serrated. This shrub, known for adapting to salty ground can be planted alone or within a group, in hedges or flowerbeds.