Gladiolus
Himalaya
Size 12/14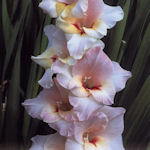 Gladiolus
Sancy
Size 14/16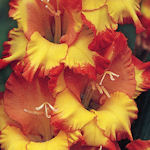 Gladiolus
Princesse Margaret
Size 12/14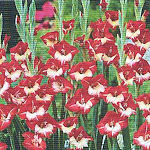 Gladiolus primulinus
Mlle de Paris
Size 12/14
Photos : Ernest TURC.
Geographical origins: Southern Africa, West Asia and Mediterranean areas.
Adult dimensions: From 100 to 130 cm.
Foliage: Deciduous.
Type of soil: Any, well drained fertile soils.
Climate: Not hardy (lift out the bulbs before the winter).
Exposure: Full Sun.
Characteristics and uses:
Elegance personified in your garden and in your floral compositions.
The bulbs are planted out in the spring, between February and end of May, and offer you a magnificent display of flowers from July through to September.
Gladioli do not thrive in dry weather, and they will be more beautiful if watered on a regular basis.
Dead- head regularly to promote the apparition of new flowers. Staking is advisable as soon as growth is well established.
The bulbs can be planted either directly in your garden or in pots.