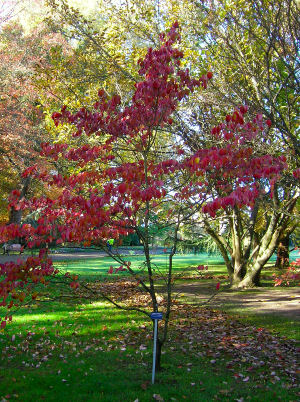 Area of origin: Northern America.
Adult dimensions: Height up to 6 m, width up to 3 m.
Foliage: Deciduous, dark green.
Type of soil: Doesn't like chalky soil. Moist and humid, but free draining.
Hardiness: Hardy to -29°C.
Exposure: Sun. Sheltered from hot and dry wind.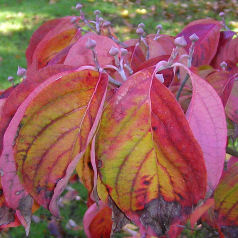 Characteristics and uses: Superb star shaped blossom at the beginning of spring, in a shade of green, framed by four extremely decorative petals. It needs to be watered regularly during hot summers as this Cornus can suffer from lack of water. It can be planted either on its own or in mixed hedges. Its small, round, vivid red fruits appear from the end of the summer right through to the beginning of winter.
List of Cornus:
Bloodtwig Dogwood (Cornus sanguinea)
, off white blossom in May - June, red stems in winter
Chinese Dogwood (Cornus kousa)
, small white flowers in May - June, red foliage in the autumn
Cornelian Cherry Dogwood (Cornus mas)
, early bright yellow blossom in February - March, high nectar producing, edible bright red berries in summer
Japanese Cornel Dogwood (Cornus officinalis)
, yellow blossom, abundant and scented as early as February, edible berries
Red Barked Dogwood (Cornus alba)
, small creamy white flowers in May - June, bright red stems in winter
Wedding Cake Tree (Cornus Controversa Variegata)
, Magnificent variegated green and off white foliage that will take a red tint in the autumn. It has a spreading shape and an extremely sculptural aspect. Abundant blossom from May to June.