Bamboo Thamnocalamus tessellatus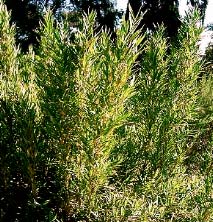 Geographic Origin: Originates from the low mountains (1200-2400m.) of South Africa and Lesotho.
Adult size: Up to 3 m. in height.
Foliage: Evergreen.
Type of soil: Moist and deep. Does not like excessive chalk.
Climate: Avoid direct sunlight.
Exposure: Shade.
Hardiness: -10°C.
Root development: Clumper root system (non-spreading variety).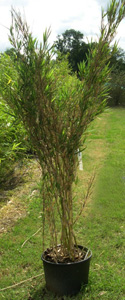 Characteristics and uses:
This bamboo has olive green canes. Its foliage is very compact and pale green in colour. It has an upright form.

This African variety is happy in a tub or planter, but is also suitable for use as a hedge.

The bamboo Thamnocalamus tessellatus does not like to be in direct sun. In Afrikaans, it is called "bergbamboes", meaning "mountain bamboo". The Zulus use it for strengthening their helmets and shields. This bamboo is still rare in Europe.
www.planfor.co.uk