Bamboo Sasa Japonica "Tsutsumiana"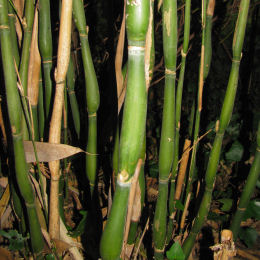 Geographic Origin: Originates from Japan.
Adult size: 2 to 3.5 metres in height.
Diameter of cane: < 2,5 cm.
Foliage: Evergreen.
Type of soil: Moist and deep. Dislikes excess of lime.
Climate: Drought resistant, if not prolonged.
Exposure: Partial shade.
Hardiness: -25°C.
Root development: Weak runner root system (slightly spreading variety).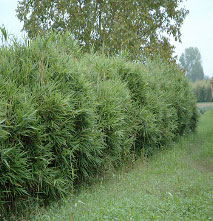 Characteristics and uses: It is happy in a border, hedge, clumps or in a planter. It is very hardy and can be grown in windy positions. Both its canes and leaves are green. Its stem is swollen between the knots, becoming more compact around the knotted area.
www.planfor.co.uk