Bamboo Sasa Japonica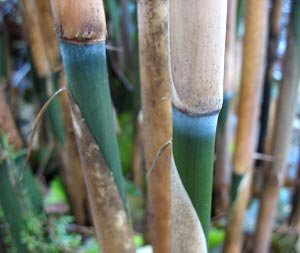 © Noah Bell - www.shweeashbamboo.com
Geographic Origin: Originates from Korea, China and evidently Japan.
Adult size: 4 to 5.5 metres in height.
Diameter of cane: 0.5cm to 1.5cm.
Foliage: Evergreen.
Type of soil: Moist and deep. Dislikes excess of lime.
Climate: Drought resistant, if not prolonged.
Exposure: Anywhere.
Hardiness: -25°C.
Root development: Weak runner root system (slightly spreading variety).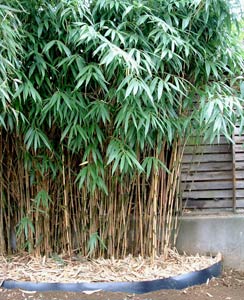 © Noah Bell - www.shweeashbamboo.com
Characteristics and uses: The Sasa Japonica is a very hardy bamboo that is suitable for everywhere. It is happy in a hedge or as a lone specimen. It is also at home in a pot or planter.
Its stems are straight hence its nickname "the Arrow Bamboo". Its leaves are dark green, long and broad especially on the upper part. The dried skin remains attached to the stems. Its fine stems grow in narrow upright clumps. The color of the stem is cream which contrasts well with its shiny dark green leaves. Its comportment is slightly weeping.

This bamboo has been grown in Japan for over a thousand years and was used to make arrows.
It also called:
- Arundinaria japonica,
- Bambusa metake,
- Pseudosasa Japonica.
www.planfor.co.uk