Fargesia Jiuzhaigou Red Panda™ -(Fargesia Jiuzhaigou Red Dragon)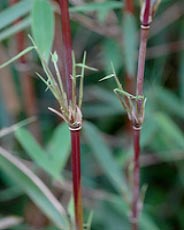 Geographic Origin: Originates from the north of the Chinese province of Sichuan. Recently introduced into Europe.
Adult size: 2 to 4 metres in height.
Foliage: Evergreen.
Type of soil: Moist and deep. Does not like excessive chalk.
Exposure: Shade or partial shade or sun.
Hardiness: -20°C.
Root development: Clumper root system (non-spreading variety).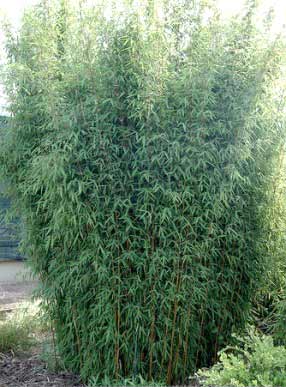 Characteristics and uses:
Its leaves are very slender and dense. The young stems are covered in a fine waxy coating and are blue green in colour when young becoming yellow orange as they get older.

This bamboo looks red and orange which contrasts well with the green of its leaves.

It can be planted alone or in a planter. Its bright mix of colours make it a charming specimen.

The Fargesia Jiuzhaigou Red Panda™ is well suited to being grown in a pot. It loses some of its leaves in a harsh winter.
www.planfor.co.uk