Apricot tree 'Hatif de Colomer' - Prunus armeniaca 'Hatif de Colomer' (latin)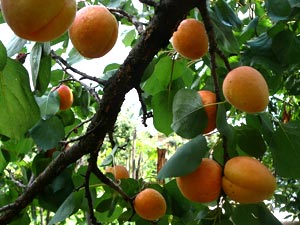 GNU Free Documentation License - Author: Elena Chochkova
Geographic origin: Central Asia and the Orient.
Adult size: Height 4 to 5 metres, width 4 metres.
Foliage: Deciduous.
Type of soil: All, except very damp.
Climate: Hardy to -18°C, however the flowers will die if temperatures fall below -2°C with the spring frosts. Not advised for areas north of the Loire.
Position: Full sun.
Pollinators: Self-fertile.
Characteristis and uses:
The apricot tree is a highly sought after fruit tree because of its small orange fruits that have such a sweet and tasty flesh. The pink or white flowers appear before the leaves. As soon as the first flowers arrive, it is important to keep an eye open for frosts, as this will harm the fruit production.

An annual prune will help aerate the centre of the tree. Watering will be required if there is a prolonged dry spell, especially in the first year. Add fertilizer on a regular basis.

The fruits of the 'Hatif de Colomer' apricot tree are ready to pick at the end of June. They are medium sized and light orange in colour, the flesh is sweet and firm.
www.planfor.co.uk