Alum root 'Guardian Angel' -
Heuchera 'Guardian Angel' (latin)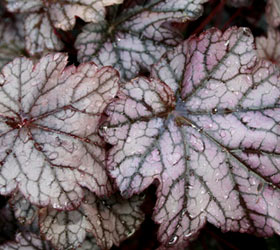 Author: Janine Bergmann
Adult dimensions: Height up to 30 cm, width up to 30 cm.
Foliage: Evergreen.
Type of soil: Cool and moist, although withstands dry soils.
Hardiness: Hardy to -20°C.
Site: Mid-shade to full sun.
Plantation density: 6 / m².
Characteristics and uses:
The Heuchera 'Guardian Angel' has magnificent foliage forming a dense, purple and silver cushion. It takes on pinkish tints depending on the seasons and its sun exposure. In June-July, this Heuchera is covered with a multitude of tiny, bell-shaped flowers.
List of Alum roots:
Alum root 'Berry smoothie', Dark pink in the spring, it will take a purple to scarlet red tint in the summer.
Alum root 'Black beauty', forms a small, dense purple carpet. It will produce beautiful small bell-shaped pink flowers in June-July.
Alum root 'Caramel', forms a dense bronze carpet.
Alum root 'Citronnelle', Pale green with a silver reverse to start with, it turns lemony-yellow in the summer.
Alum root 'Golden Zebra', has magnificent maple-like, golden-yellow with dark red centres leaves.
Alum root 'Midnight rose', forms a small, dense, crimson carpet mottled with pink.
Alum root 'Pluie de feu', forms a dense green carpet, mottled with grey.
Alum root 'Plum royale', forms a dense violet carpet, mottled with crimson.